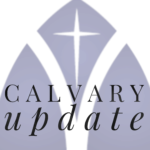 Tuesday, March 17, 2020
Responding to COVID-19 – Calvary's Plan
Dear Calvary,
Last night the elders at Calvary met to confirm our response to the COVID-19 Coronavirus restrictions being enacted by national, state, and local governments. The CDC recommended Sunday that all public gatherings over 50 people be cancelled for the next eight weeks, and individual states (including NJ) are enacting specific rules to help slow the spread of the virus as much as possible. Calvary will fully comply out of a desire to protect our members and the people of our community.
Specifically, this is what it will mean.
We will suspend the physical worship services at Calvary until the state ban and the CDC recommendation is lifted, moving to an on-line format for delivering worship content.
There will be no church-sponsored in-person gatherings either at our facility or in people's homes.
I plan to be at the church office from 9am-5:30pm Tue-Fri (with a break where I may run home for lunch). I'll be working from home at other points during the week and always accessible if needed at my mobile number (609-707-7209).
Church Cleaning Crews have been suspended until we reopen. The church was cleaned last week and then not used on Sunday. All door nobs and light switches have been disinfected.
Our Office Administrator, Barbara Terranova, will be working her regular hours (9am-2pm Tue-Fri) from home. She is accessible through email (office@calvarynj.org) or be leaving a message on the office voicemail.
The giving of your tithes and offerings will all be remote. You can mail checks to Calvary (P.O. Box 190, Allenwood, NJ 08720). Or you can set up automatic bill pay with your bank on its website. When this happens, your bank generates a check that is mailed to Calvary at no cost to you or us. The other option is to utilize the newly set up online giving options on our website. There are transaction fees for Calvary when you give online, but we completely understand if this is the most convenient option for you.
Importantly, while the building will be closed, the Church is always open. Here is how we intend to make that more than a slogan.
Monitor your email. We don't want to overwhelm your inboxes but this is the easiest way to get important prayer requests and communications to the largest number of people quickly. If you know people who don't regularly get email, please call them and relay the information.
Follow us on social media. Follow us on Facebook or Instagram. Subscribe to our podcast on your favorite podcast app. Subscribe to our YouTube channel.
In addition, I am filming daily "Staying Rooted" devotional thoughts–three minutes or so, where I share a thought I've gleaned from my Psalm of the day and from the 18th century English pastor John Newton.
At least once a week, you should hear from an elder or deacon. They want to hear how you're doing and check if you need anything. Make sure you get from them their contact information so you can reach them as needed as well.
Worship services will continue to be online-based and we can reach out to do tech consultations via phone to help people get to video content. Let us know if you need help with this.
Sunday School alternatives. I plan to teach the remainder of the Good Neighbors Sunday School class via video and make the materials available to everyone. Children's Sunday School teachers will be sending materials for kids to work on.
Finally, this is what you can do.
Take the public health warnings seriously. This is serious. Even if you are healthy, you can transmit the virus to others. The problem with pandemic situations like this is that it can quickly overwhelm the hospitals, leading to challenging choices about who is able to get care and who is not. You may not be at high risk for complications from a COVID-19 infection. You may not be anxious about your life. (Good, we Jesus said we shouldn't be.) But do your part to halt transmission and "flatten the curve." This is basic "love your neighbor as yourself" stuff.
Follow the 50/50 rule. Spend as much time consuming content that points you to the eternal promises of God as you do consuming news reports.
If you think of someone, call them. Social distancing doesn't have to be social isolation. Remind people that they aren't alone through frequent touches.
Look for opportunities to share hope. I have heard from several people how they used this past Sunday as an opportunity to send the worship service links to friends and neighbors.
This is big and we are living in serious times. There is a heaviness to consider shutting down worship services through Easter. But this situation is not bigger than our God and we, above all, should have the most hope. The resurrection that we celebrate every Sunday is the guarantee that light follows darkness and life follows even death for those who trust in Christ. May that confidence guide us in the days ahead.
For the life, hope, and joy that is found only in Jesus!
Pastor Tom
Saturday, March 14, 2020
COVID-19 Update
No Services Sun, Mar 15
Dear Calvary,
After several days of discussion and watching closely the local and national response to the COVID-19 virus, the elders met tonight and made the decision to cancel Sunday School and the Worship Service on Sunday.
We do this reluctantly because we take seriously the witness of the Christian Church as it gathers weekly to worship the God who saved us through the life, death, and resurrection of Jesus Christ. Yet we also take seriously our Lord's command to love our neighbors and do good to all, especially those in the household of faith.
As we listen to those with medical and public health backgrounds (in our congregation and in the broader public) we understand the unique nature in which this virus can be transmitted without people even realizing they are doing it. And so in concert with local school systems and civic programs, we desire to help with the goal of minimizing opportunities for the virus to spread.
Despite the fact that we won't be meeting in person, we desire to help you use your Sunday morning for worship and remain connected to the ministry of Calvary. Watch for more information tomorrow from me about how you can do that. In addition, we want to be known for helping one another. If you need help with getting food or supplies, let us know.
For the eternal life, transformative hope, and unshakable joy found only in Jesus!
Pastor Tom